Do you like exclusive spa specials and perks? reTreat yourself to our spa and massage memberships.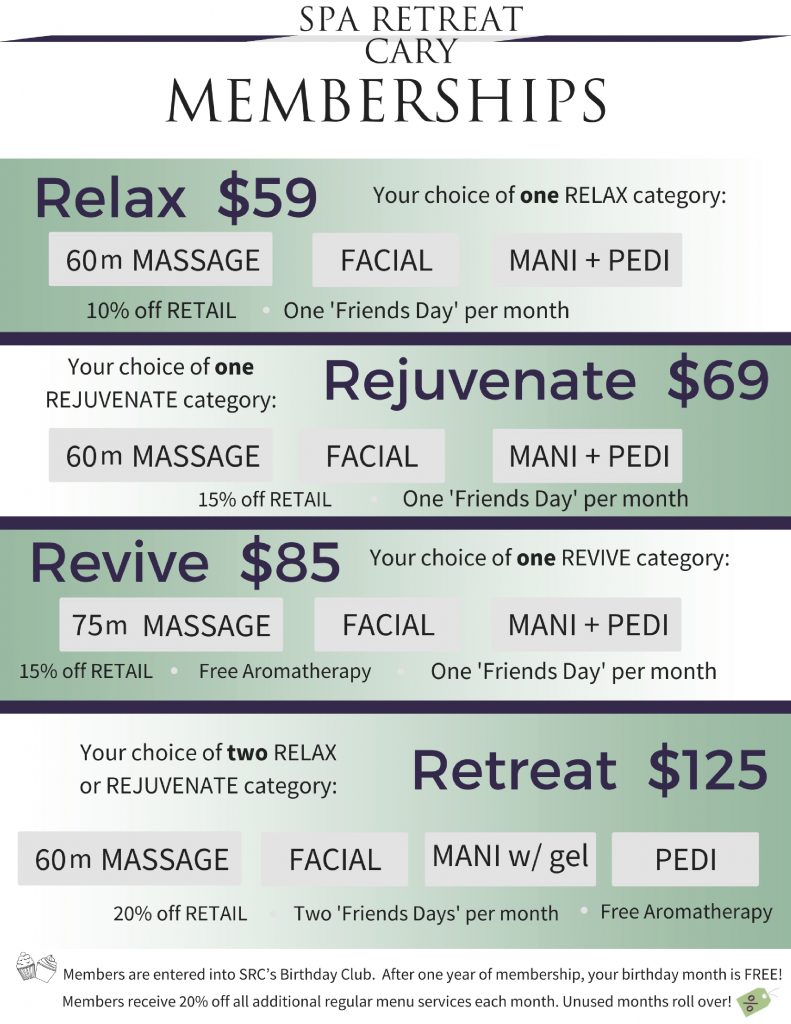 Contact us today for more information! We are only a call or email away: 919.439.4777 retreat@sparetreatcary.com
Perks and Details of SRC Membership:
Just to clarify,

you do NOT need a membership to enjoy services with Spa Retreat

! Memberships are designed for convenience and savings when we become part of your monthly routine, but are never required.
Busy month? Membership services roll over! Your "missed" month service(s) will be available for use in your account for an entire year.
You have CHOICES. Each month, choose any of the listed services within your membership category.

Rejuvenate Example:  Month 1: Facial,   Month 2: Mani/Pedi   Month 3: 60 Minute Massage
Retreat Example:  Month 1: Relax 60m Massage & Rejuvenate Pedi,   Month 2: Rejuvenate Facial & Relax Mani w/ Gel Polish

Additional discounts! While we never require you to receive more than your pre-loaded, selected monthly service choice each month, your membership includes additional discounts every month; meaning your waxing, tinting, gel polish, and even permanent makeup will all be

20% off the menu price

!
Stock up on retail and save. Tiered retail discounts are listed for each level of membership.
Revive & Retreat memberships include FREE aromatherapy for ALL services upon request.
Bring a friend! Each month, your membership level allows 1-2 "Friend's Day" discounts at the same percentage as your retail discount. When your friend comes in with you, they receive this discount for

all

services received that day. Show your friends that is pays to belong!

Relax level = 10% off for one friend
Rejuvenate = 15% off for one friend
Revive = 15% off for one friend
Retreat = 20% off for two friends

We celebrate your birthday! Each year, beginning after 11 months of consecutive membership, your birthday month is FREE! What better way to celebrate your birthday than a free facial, massage, or mani/pedi? Additionally, we honor our SRC Birthday Club perk of a free ReTreat.

How will you be charged?

Supply us with your preferred card and we'll process payment on the first business day of each month. Prefer to control charges or pay in cash? Stop in, or call in, and we can process payments manually; payment is required no later than the 5th of each month. Note your preference when you sign up and change it up as needed.
NO ANNUAL FEES OR HIDDEN COSTS. Your membership is your membership, each month, with no additional/hidden costs. Remember, our goal is to help you relax and retreat.
NO CONTRACTS. Spa days should be relaxing, so our memberships are offered with 'no strings attached'. Our policy is simple: if you aren't into commitments, just request a refund of your membership by emailing or calling us. Upon confirmation, your membership will be cancelled beginning with the very next calendar month. We can't refund a previously charged membership, so use up your last pre-loaded month, and you're done until you realize our membership is the thing now missing from your life. Call us back and resume your membership at any time.