I just had the best spa day. I know being the owner of Spa Retreat Cary takes away most of my endorsement, so I will elaborate. In the past 18 or so months, Sally and I have enjoyed some great (and some not so great) spa experiences – both in the Triangle and elsewhere for comparison.  This research was essential, as our focus is to provide the full spa experience to every guest here at Spa Retreat Cary. With ten years in the industry, I knew the basics, and many high-end expectations that were important to set. But I don't want to provide a regular spa experience – we intend to set a new standard! So in our adventures, we looked for the things we loved, the things that scared us, and the things we could definitely go without. I know it seems quite taxing to do such research…it must have been the hardest part of opening our spa (ha ha). We were able to confirm our theories and opinions on some items, as well as learn a few things. Our hope is to save others from going through this process and find their perfect spa day on the first try. Now that you know my backstory, I'd like to share how my first SRC spa day went…
You know you need a spa day when your amazing and supportive guest service associate Alena pries the laptop from your hands and firmly escorts you to the locker room. Conceding to the fact that my workaholic self needs a break, I accept this quiet reprieve and go with it. Stepping into the mindset of a guest, not the owner, I take in the calming effect of the quiet locker room and faint scent of our Paddywax diffusers. The locker holds a plush, fluffy robe and comfortable slippers. Everything I need is within sight. Sally joins me for yet another spa adventure, as she is equally in need of this indulgence. She seems just as relaxed.
Next, we go to the lounge, appropriately labeled "Retreat". On the way we stop for a quick photo shoot to document proof of our relaxation. Here we go: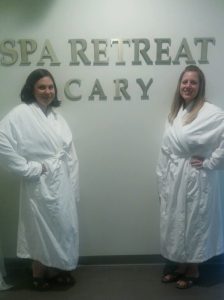 Our lounge is stocked with refreshing water flavored with seasonal fruit, an assortment of tea, and some light refreshments. My morning coffee left me needing a mint, which is thankfully provided. I'm usually quite cold, but the lounge temperature is so perfect, I don't need one of the blankets from the corner. Sally and I sit down and fully enjoy the comfort of our Kristin Drohan sectional, each of us having our own space and C table to set our glasses. We both take just a moment to fully transition from girl bosses to relaxed guests. And exhale…
I'm greeted by Gabi, my massage therapist, while Sally is taken back by Olivia, her esthetician. They treat us with the same level of attention a guest would receive, and I know I won't have to think for myself at all for the next couple hours. I say bye to Sally and begin my first treatment. Gabi has me sit in a chair to review my goals and concerns for our session. She explains which service I chose and ensures I don't have any further questions, then steps out while I disrobe. As I rest my face in the fleece-covered plush face cradle, I notice the scent of lavender from our Whispering Willow linen spray – not overwhelming, just a hint. I drift further away from the daily pull of different life focuses and just…relax. Today's session plan is a full body massage without a specific body concern; I received a 60 minute Rejuvenate massage with a goal of relaxation. From the beautifully performed massage to the lavender eye pillow to the Lo & Behold custom aromatherapy, I can truly say Gabi achieved our goal! At the end of my service, Gabi is waiting outside with spa water and escorts me back to the lounge.
Once in the lounge, I wait for Sally, who is in her facial and added a lash tint – so I'm left unattended for a moment. I tried to sneak back to my office to get some work done, and was promptly taken back to the lounge by Alena. Apparently Sally knows me too well and anticipated my deviation from the plan. I grab a magazine and sip some tea. A few minutes later, Sally joins me looking just as relaxed and rejuvenated. A moment later, we are served a light but filling lunch from Tribeca Tavern. I appreciate the moment we're given to digest our yummy meal and relax before beginning our second service. Gabi comes back to greet Sally, while Olivia now takes me for my facial.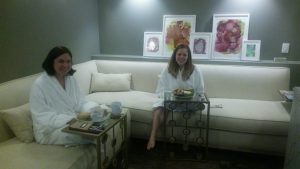 Olivia reviews my goals and concerns, ensuring to verify my most recent treatment, products I'm using and those that I've stopped, as well as sun exposure and sensitivities. I follow instructions and relax into my second service much easier thanks to Gabi's massage work. I was scheduled for a Revive facial but due to my recent beach trip I switched to our special, the Pina Colada Facial, at the last moment. Olivia handled the change seamlessly and incorporated my choice of the fragrant, delicious Shira products in a fluid, relaxing manner. With each layer and new product, I slipped deeper into a meditative state and almost fell asleep! At the conclusion of our service, I had fully accepted my new role as guest and decided to relax more rather than return to work.
Apparently, Sally was in agreement, as I found her in the lounge as well. Alena brought us each a square of Videri Sea Salt Dark Chocolate and a glass of red wine. We talked, laughed, and truly enjoyed this quiet moment of peace for a little longer than planned. Reluctantly, we eventually returned to the locker room and stepped back into our roles, leaving our robe and slippers behind with the happy commitment of another spa day soon.